Någonting att dricka? Med Kerin O'Keefe!
Lästid: 3 minuter
Hon är en av de mest lästa vinskribenterna på den internationella scenen, med initierade artiklar och reportage publicerade för bland annat Decanter och World of Fine Wines. Hon har dessutom skrivit fyra böcker av signifikant betydelse för vinvärlden; Franco Biondi, The Gentleman of Brunello samt de bästsäljande böckerna Brunello di Montalcino – Understanding and Appreciating One of Italy's Greatest Wines och Barolo and Barbaresco – The King and Queen of Italian Wine. Vi har valt att publicera hela intervjun på engelska och hoppas att det är fullt rimligt för er vår fantastiska följarskara, för det här vill ni inte missa. Någonting att dricka har träffat den Italien-specialiserade vin-gärin KERIN O'KEEFE!
It's Friday night, your blood is boiling hot for some fun, what will you pour to kickstart the weekend?
– Ettore Germano Rosanna Extra Brut, a fantastic metodo classico made with 100% nebbiolo.
If you could share a bottle with anyone you wanted, who would it be and what would you pour, now living or a historical person?
– Robert Plant, Barolo. I met Robert Plant when I was studying at the University of East Anglia in the UK, years ago. After a concert he did at the university, he invited me out and we drank claret. The only thing not amazing about that night was the wine. So I'd like to pour Barolo the next time. Robert, if you reading this…
What is the biggest prejudice people have about you?
– I have no idea. You'll have to ask them!
Your life motto?
– Go for it!
The best advice you've ever got?
– From my mother and father: You can do anything you put your mind to. Don't let anyone tell you different.
What were the biggest challenges of being a wine critic and an author?
– Writing the first books ever dedicated to single Italian wines, Brunello di Montalcino (University of California Press, 2012) and Barolo and Barbaresco (University of California Press, 2014) and starting my own independent platform, kerinokeefe.com. All very challenging, but deeply rewarding.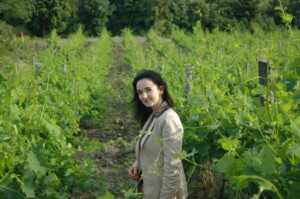 What's hot and trendy to drink in your guild?
– Etna whites. Everyone talks about the reds, but Italian wine geeks are finally starting to discover the amazing whites that grow on the slopes of the volcano.
What question about your professional life do you mostly get?
– A lot of people ask, "How did you start out?".
Best wine bar and restaurant in Italy and also in the world?
– I'm really Italy-focused, and my favorite wine bar is Trimani Wine Bar in Rome. Incredible wine list and generations of experience.
What are your favorite drinks, give us one of each of the following:
Beer? – I rarely drink beer but when I do, I really enjoy Birra Messina Cristalli di Sale, a crisp, salty beer from Sicily.
Wine? – Can't choose just one. For Barolo, Comm. G.B. Burlotto, for Barbaresco, Cascina delle Rose, for Brunello, Ciaccci Piccolomini d'Aragona, for Etna, Graci and Soave Classico Calvarino from Pieropan.
Spirits? – Never drink them – I only drink wine!
Cocktail? – Never drink them.
Party punch/cooler? – Never drink them.
Hair of the dog? – A triple espresso does just fine.
Favorite varietal, favorite wine region and favorite style of wine?
– My favorite red wines are made with nebbiolo from the Langhe, sangiovese from select parts of Montalcino and nerello mascalese from Etna. For whites, carricante from Etna.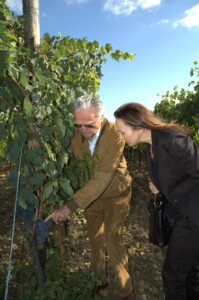 How do you celebrate that something really big has happened?
– We go to our cellar and pull out an old Bartolo Mascarello Barolo or an aged Biondi Santi Brunello Riserva.
Whats your goto table wine at home?
– Pieropan Soave Classico. One of the best values in Italian wine.
Best food and drink in combination you know?
– Pizza and Lambrusco di Sorbara.
Another matchup you dismiss that is truly overrated?
– Pizza and red wine, never. I love to pair pizza with something chilled and that has crisp acidity.
How do you keep updated in the world of wine?
– Besides reviewing thousands of wines every year, I constantly travel to wineries and growing zones all over Italy, and this allows me to stay updated on vintages, denominations and wineries first hand.
Do you collect wine?
– Yes! But only Italian wine.
Best wine experience ever, (no matter what and where or expensive label in a fancy place)?
– It was my 'aha moment' at an informal restaurant in Valtellina years ago. My husband ordered a bottle of Nera Inferno, and I was hooked. I wanted to know everything about the wine: the grape, the producer, the name. The rest as they say, is history.
At what drinking spot, bar or restaurant, can you mostly be found?
– Casa O'Keefe – Tenti. The wine list is excellent!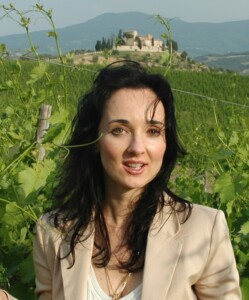 Facts about Kerin O'Keefe:
Living: – On the Swiss-Italian border.
Busy with: – Writing, Tasting and Reviewing at kerinokeefe.com #kowine
Doing: – When not working I can be found cycling in the hills and mountains near my home.
Known as: – Kerin and for her avid knowledge about Italian wines.
Fun trivia: – Kerin is an unusual name that my mother made up, by adding a K to the traditional Irish name Erin. The US government thought it was a male name and I was ordered to register for selective service (the draft) once I turned 18, something that only US men have to do. Not registering is a felony but I initially ignored the threatening letters from the government. Eventually, I had to send some in documentation proving that I was in fact a woman and therefore exempt from registering.